edited* The winner of this giveaway is #27, Allison who shares: The word for me is trust. Congratulations, Allison. I will email you the details. Look for your coupon code in your inbox from Dayspring.
I'll never forget September 2013 when I dropped my fourth child off at preschool. My last child was unattached to my hip, potty trained and speaking phrases that were utterly too mature for her age. "Turn your face around," she would say when she craved my undivided attention. That's suppose that's what happens when you're the youngest child. Her big day arrived and the three-year-old cheerfully walked into a classroom with pint-size peers. I, on the other hand, went home sulking wondering what I would do with myself. A girl can only clean her house, coupon shop, Goodwill treasure hunt and go to fitness classes so many times until she starts wondering what her new purpose is.
My career itch was flaring and I pondered with God if my time had arrived. After purposeful prayer and time in the Word, I took the plunge and started down the Career Builder highway. It's the online highway of downloading resumes, cover letters and previous work experience that caused me to spiral downward. My dilemma was a lack of job experience for a about a twelve year span. Sure, I have this hobby I call freezer cooking, blogging and speaking experience, but when was the last time I taught high school students? Thirteen years ago to be exact.
Another dilemma in the field I am certified for was in the air. A position, maybe two only opens once or twice a school year. This led me to apply for a number of other jobs I was semi-qualified for, about twenty jobs to be exact. Every single one led to a rejection letter via mail or email. I recall less than six interviews and no second interviews. The flooded job market, my niche teaching degree and the continuous rejection was causing me to doubt God's goodness and purpose. In fact, I cried out many times, "Where are you, God?" and much like my youngest, I wanted to shout, "Turn your face around!"
Five months later after a closed door at my neighborhood high school, I swallowed my pride and decided to apply for an interim position (teacher sub pay) for four months at a different high school. It was a humbling experience, but it was the exact number of toes I needed to inch into the teaching water that God had planned. I realized I had to accept God's best intentions for me and FULLY TRUST GOD.
I had a temporary job for four months and a new position opened in June which I interviewed for. I had high hopes since I was already in the system, but God had a different plan. I had to PAINFULLY TRUST GOD.
In August, I watched my children return to school with excitement and I had to TEARFULLY TRUST GOD.
I distracted myself by painting two of my children's bedrooms and redecorating my living room. I dropped off my daughter at her preschool within our local high school in my running shorts and watched other teachers run hastily to their jobs. I made a decision in my prayer journal to to not rely on my own understanding. I continued to pen the words: "In all your ways, I acknowledge you, God to direct my paths. I will wait on you and your perfect timing.
I waited on God, I had to CLOSE MY EYES and TRUST GOD. I surrendered by saying, I Trust in you with all your heart."
The very next day a a new foods year long interim teaching job posted at another high school with a diverse student population and I was hesitant. Breathing deeply, I decided to TRUST GOD. I hit the send button.
Five minutes later the phone rang. The director calls for an interview the next day. I interviewed and receive a call back. I started teaching on Tuesday of the following week with a salary and benefits. I have smaller classes with fewer students and an amazing support system of administrators, mentors and a directors.
I would not be where I am today, joyfully teaching, TRUSTING and abiding in God had I not experienced a year long wait. It has been fifteen years since I've had teacher a teacher's salary and benefits. This is a year-long temporary job since the teacher has taken on a different role within the school. Hers is an interim job as well. I don't know what God has in store. Perhaps her job will continue and I will be able to resume her position. Perhaps not. Only God knows and for the meantime, I am going to enjoy teaching my foods and nutrition students with a purpose, plan and gifts God has given me. I am TRUSTING GOD FOR MUCH MORE THAN ALL I CAN ASK OR IMAGINE.
Do you need to TRUST God with an area in your life?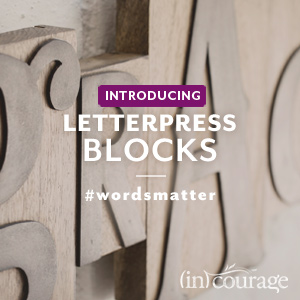 DaySpring has launched the Words Matter Letterpress Blocks you marveled over above. Each letter is intricately carved with exquisite detail and there is an amazing site that allows you to build your word any way your heart desires. Imagine a blank canvas for you to express your favorite word, phrase, scripture, quote or saying that touches your heart. It's easily created when you visit the Letterpress Blocks Interface .
Now you know how God touched my heart this past year. TRUST GOD is engraved on my heart and now I have the beautiful reminder to hang on my wall. Would you like to brighten your home also, share words of wisdom with others, post scriptures on your door frames? DaySpring makes it gorgeous with these Words Matter Letterpress Blocks.
I am pleased to give away a $50 coupon code good towards the Words Matter Letterpress Blocks because God's Words Matter. They can surround us and hug our heart.
Imagine the possibilities. Words can be expressed any way you like. Hung on a wall, nestled in a book case or complimenting any home decor. They are available for purchase from DaySpring.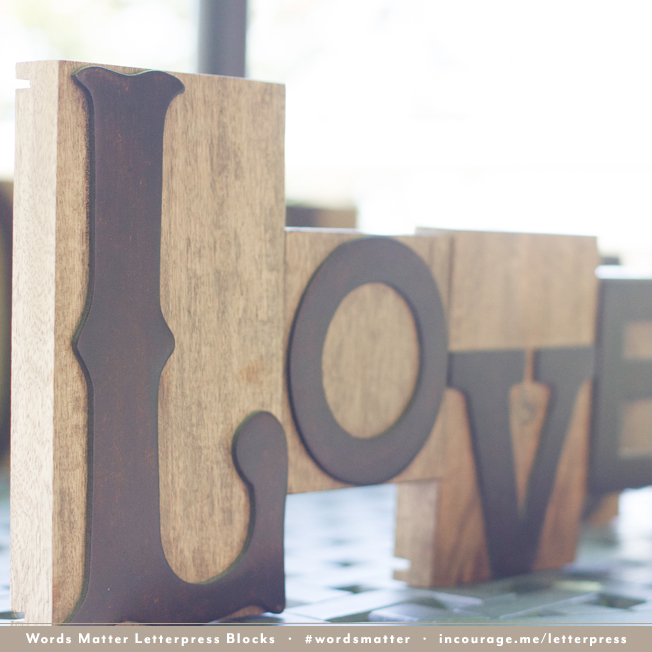 Do you need to be reminded of God's Amazing Grace?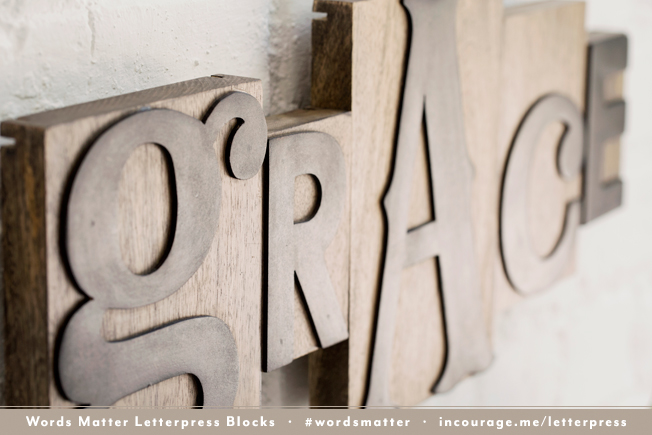 The $50 giveaway winner will be randomly selected from the comments. Visit DaySpring here and share a word that matters most and why. I will announce the winner on Friday, October 17, 9:00 a.m. Sorry, this giveaway is only open to US residents.
Extra Entries (leave a separate comment for each):
Like Mom on a Mission on Facebook
Like DaySpring Cards on Facebook
Follow on Mom on a Misison on Pinterest
Follow (In)Courage on Twitter or Mom on a Mission on Twitter and leave a comment saying so.
Disclosure: I received a $75 gift coupon toward the purchase of my personal phrase by DaySpring. This is my original story and all my opinions of DaySpring Words Matter Letterpress Blocks are my own.